Figaro Grand Design for the year 2030

〜Figaro in Harmony with the Future〜
FGD2030 (Figaro Grand Design for the year 2030)
is the ten-year business plan of Figaro Engineering Inc. for the year 2030.

"Growing in harmony"
is a slogan for FGD2030 to achieve our vision for the year 2030.
Playing the three harmonies, we will continue to endeavor and grow without resting on our laurels toward the year 2030 with the vitality and spirit of challenge nurtured by the free and vigorous culture that is the origin of our company.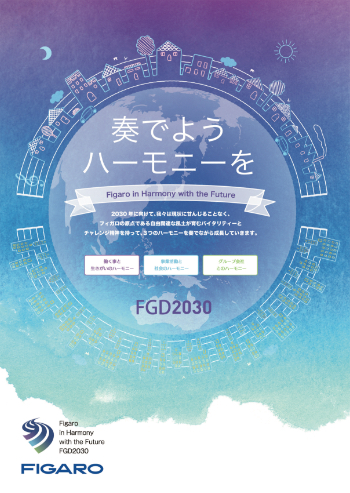 We will aim to be a company where each employee finds fulfillment in working at Figaro.

The values are increasingly diverse among people nowadays. In such a world, we will aim to be a company where each and every employee can work with passion and pride, and with a feeling of happiness in working at Figaro. We will aim to be a company where the delight of our customers is our pleasure, and we can share in their happiness. We will also provide educational support for each employee to achieve self-realization.

We will continue our business activities with the aim of realizing a safe, secure, and comfortable society throughout the world.

Our company's business domain is in areas related to the safety, security, and comfort of society as it was. As the importance of realizing a sustainable society is being emphasized around the world, we will work on the SDGs to achieve this. Through our contributions to the local community, we will aim to be a company that is loved by the community, and that people will find to be a good company and want to work with us.

We will aim to accelerate rapid growth for the entire group through synergies among group companies.

We will aim for further growth by cooperating with our group companies, stimulating each other, and creating synergy effects while maintaining Figaro's unique corporate culture. We will also strengthen our cooperative relationship among the entire group to grow together.