A comprehensive system of production management has been developed to ensure that high-quality products are supplied in a stable manner.
Gas sensors may vary in quality with changes in temperature and humidity experienced during manufacture. To maintain a constant quality level is extremely difficult, requiring considerable knowhow and management. Figaro is able to guarantee high quality products with its thorough production management system and its superior inspection system.
Quality policy
Figaro provides safety, security, and comfort through gas sensing. The company is firmly devoted to furthering technology over its entire range of activities as a means of creating products and services trusted by the customer.
The quality assurance process
Figaro has introduced the ISO9001 quality management system into its operations. Any manufacturer must deal with defective products. The recurring question is how to reduce the number of defective products from the manufacturing process to as close to zero as possible. To achieve this goal requires engagement by the entire company across sales, development, manufacturing, and quality assurance divisions.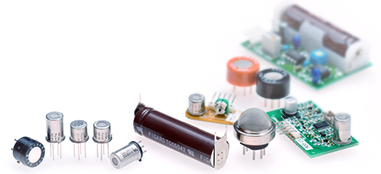 The manufacturing process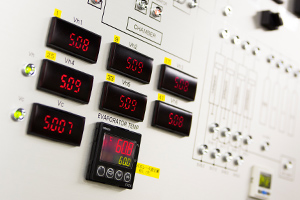 While the gas sensor is an electronic device, even if the same process is used for manufacture, differences in temperature and humidity between manufacturing plants may result in variations in quality. Figaro has focused on building a uniform manufacturing environment so that quality can be maintained despite variations in the factors affecting product quality (e.g. weather). Furthermore, modifications have been applied to the mixing of materials and fabrication processes to ensure that stable quality is maintained through both the manufacturing environment and the manufacturing process.
Daily variance report meetings are held as a means of preventing the occurrence of defects in the manufacturing process, with an unrelenting focus on sharing information about changes and abnormalities in the production line, determining causes, and implementing countermeasures to improve quality.
Quality inspection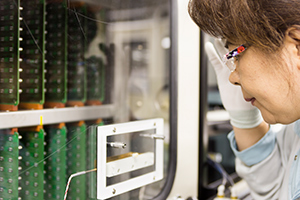 Gas sensors are electronic devices in direct contact with air. Exposure to the air implies ready exposure to the effects of the local environment. Under these conditions, deterioration of performance and quality of defective components is unavoidable.
To provide customers with quality, reliable products, Figaro runs each product through a battery of tests following manufacture. To ensure that defects can be eliminated prior to shipping, Figaro will also subject some of its products to testing that goes beyond standard inspection tests.
Certification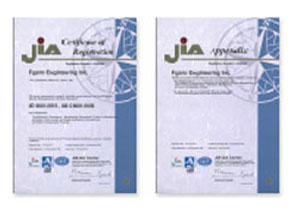 ISO9001 (Quality management system)
An international management standard regulating the quality improvement of supplied products and services through maintenance and improvement of administrative processes to offer high quality products and services continuously.