News
Supplier of the Year Award from First Alert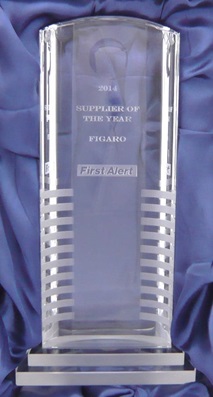 We are proud to announce that Figaro has been named "Supplier of the Year" for 2014 by First Alert.
Out of its extensive network of global suppliers, First Alert selects a single winner for this award, and it is only given in cases where the supplier provides service above and beyond expectations. There have been several years when no award was given, so it is a special honor to receive it.
In presenting the award to Figaro, Nancy Pellegrini, Director of Global Strategic Sourcing for First Alert commented, "We are grateful to have Figaro as a supplier partner. Figaro has met or exceeded our technical and commercial challenges that support First Alert as the brand leader in CO detection."
Figaro is one of the largest manufacturers of carbon monoxide sensor for residential CO detectors. Figaro will continue striving to be recognized as the world's leading supplier of sensor technology.