News
Announcement of New Evaluation Module EM-FECS(A)
We are pleased to introduce our new evaluation module, EM-FECS(A).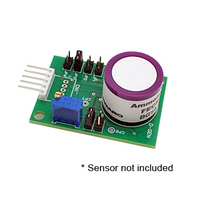 The EM-FECS(A) evaluation module is designed for testing and evaluation of the FECS-series three-electrode type electrochemical gas sensors.
Since the output voltage corresponding to the sensitivity characteristics by sensor type can be obtained, the characteristics of the FECS sensor can be easily evaluated.
Please refer to the product information sheet available on the Products page for further detail.


Evaluation Module for FECS-series Sensors - EM-FECS(A) >>


This new evaluation module is now available.


For inquiries on this product, please feel free to contact us at: https://www.figaro.co.jp/en/contact/form.html