News
Exhibit at AHR Expo 2022
Figaro USA, Inc., our US affiliate will exhibit our latest sensing innovations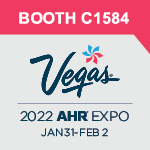 at the AHR Expo 2022 in Las Vegas, Nevada at Booth C1584 from Jan. 31 to Feb. 2, 2022.

AHR Expo (International Air-Conditioning, Heating, Refrigerating Exposition) is the world's largest HVACR event.
Learn more >> https://www.ahrexpo.com/

Main products on exhibition:
- A2L Refrigerant Gas Sensor Modules
- Lead-free Oxygen Sensors
- New compact and highly accurate NDIR type CO2 Sensor Module

We look forward to your visit!