News
New Halocarbon Gas Sensor TGS2630 and Pre-calibrated Sensor Module FCM2630 Now Available
We are pleased to announce the availability of Figaro's new halocarbon gas sensor
TGS2630 and pre-calibrated gas sensor module FCM2630.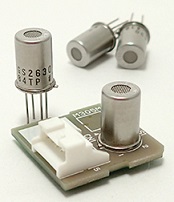 TGS2630 has high sensitivity to low GWP (Global Warming Potential), low-flammable refrigerant gases such as R-32 and R-1234yf, as well as to R-404a and R-410a, which are commonly used in air conditioning and refrigeration systems. FCM2630 is a small pre-calibrated module that uses TGS2630 for R-32 refrigerant gas detection.


For further details, please refer to the product information sheets available for each product on the Products pages.